6.6L LLM Injector Set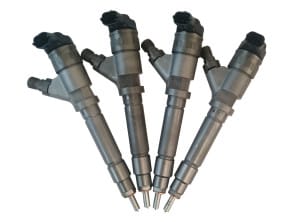 Does your truck have over 80k and have a hard start? Maybe it doesn't start at all? Does it miss or makes a funny ticking sound? These injectors may be what you need. They put 10 micron fuel filters in the motor of you truck. Your injectors need a 2 micron filter to keep all of the gunk in your fuel out of them. Many people do not even get to 50k miles before they have a problem caused by fuel contamination. Another common problem for these injectors are cracks caused by a rail pressure box. If you are using an aftermarket power enhancement and it plugs into the rail pressure, chances are it's a pressure box. DFC Diesel knowledgeable staff will able to help you with any issues you are having with your truck, call DFC Diesel today.
Whether you've just changed the fuel filter or repaired the entire fuel system, count on Bosch Injectors for greater reliability and quick engine start-up. Trust Bosch diesel engine parts to deliver the ultimate in diesel engine performance every time.
Ensures efficient fuel atomization
For positive sealing to the engine
Bosch provides a one year (1Year) warranty on these injector and will require a copy of the original purchase receipt, mileage of the vehicle upon install and mileage upon failure. You will have to send the injector to Bosch as they are the manufacturer.
To learn more about Bosch, please visit: www.boschautoparts.com
Brands: Bosch, Chev-GMC Duramax
Product Type: Injectors
Years: 2008 - 2010