Does your warranty cover engines with aftermarket modifications?
Yes, DFC builds our engines to be reliable and long lasting even with aftermarket modifications. When considering an engine replacement keep the intended use of the vehicle in mind so DFC can supply you with an engine built for your application.
---
What is included with your engines?
Short blocks include front and rear covers with the oil seals installed, all internal engine components, oil pan and a complete gasket set for installation.
Long blocks include all the mentioned items of the short block assembly plus the cylinder head(s), rocker assemblies and pushrods and all gaskets required for installation.
Our standard short and long blocks do not come with wiring harnesses, sensors, belts, hoses, motor mounts, harmonic balancer, injectors, fuel pumps, valve covers, turbos or water pumps.
DFC versions of completes are typically our long blocks with the injectors, turbo(s), fuel pumps, and oil cooler shipped separate requiring installation by your repair shop.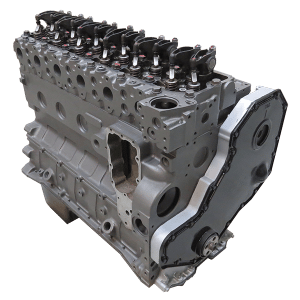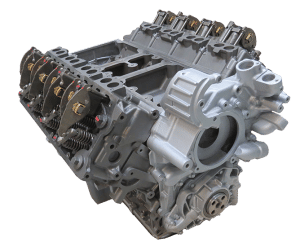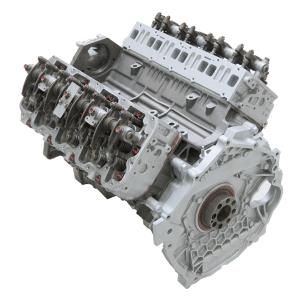 ---
What is the cost of shipping the engine and returning my core?
As we deal with dozens of freight companies DFC can arrange transportation from our facility to you for generally no more than 150.00-250.00 anywhere in Canada. We always cover the cost of the return freight up to 200.00 as long as you contact our office and we arrange shipping.
---
What do I do to return my core?
Once you have installed your new DFC engine and have packaged up the core in the provided container making sure to fill out the warranty registration and core tag, contact our office toll free at 1-877-836-8441 and we take care of the rest.
---
What do core deductions mean and what would cause a deduction to be made?
Core deductions are made when the returned core is not able to be remanufactured to DFC's strict guidelines or requires more than the regular processes involved to repair. We stress that this is not a for profit charge and is to ensure every one of our customers receives the same quality of engine as the next.
---
How do I activate my warranty?
Supplied with every engine is a complete copy of our warranty with an attached warranty registration form as the back page. Once filled out it can be emailed to warranty@dfcdiesel.com or faxed to 780-455-0874. You should also retain a copy for your records as it may be required to assist with a warranty concern.
---
Where do I find the engine serial number?
All warranty registration forms have engine serial number filled in before leaving DFC. DFC engine serial numbers are stamped on each engine and can be located in the following areas.
Dodge Cummins on top of the oil cooler housing begins with a letter "D".
Ford Powerstrokes on the passenger side cylinder block deck surface closet to the firewall. Begins with "F".
Also located on the driver's side of block just above aluminum oil pan, behind where dipstick enters engine. Begins with "F".
Chevy Duramaxs are located on block casting that houses the cp3 pump at front of block on the top begins with letter "C".
---
Do I need to buy new injectors?
Injectors are not a serviceable item and should be removed for testing or replaced every 150,000 km (90,000 mi). We like to remind our customers that an injector failure, especially from worn out or contaminated fuel system causing an engine failure is not covered under warranty.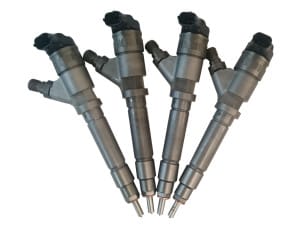 ---
Do I need a new oil cooler?
DFC recommends that the oil cooler be thoroughly flushed or replaced however is mandatory if the previous engine failed causing any contamination of the lubrication or cooling system.
---
What does the extended warranty entail and when can I add it?
DFC offers an extended commercial warranty which gives 3 years 100,000km warranty coverage. The extended warranty must be added within 30 days of purchase. Please refer to our complete warranty form for further details.
---
What do I do in case of a warranty concern?
Write down as much information as possible such as unusual noises, leaks, any lights in gauge cluster and what happened leading up to the incident.
During regular business hours contact DFC at 1-877-836-8341 and we will promptly assist with the concern. After regular business hours you will need to have your vehicle taken to your nearest DFC authorized repair centre or shop of your preference if none are available.
If ever unsure as to the severity of a problem it's best to have your vehicle towed to avoid additional damages.
Once at a repair facility you will need to contact DFC requesting a Warranty Approval Form. The shop will then need to perform the diagnostics necessary as to the failure and complete the form. The form then needs to be faxed to 780-455-0874 or emailed to warranty@dfcdiesel.com. Forms will be completed and returned within 1 business day stating what parts and labour will be covered.