6.6L LB7 Diesel Engine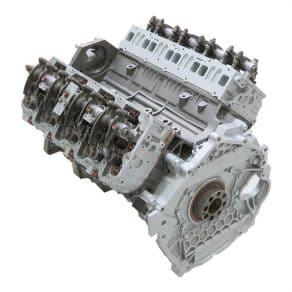 DFC Diesel Rebuilders prides itself in being the highest quality product on the market. This is why we can back our engines with a 5 year 160,000km warranty that we stand behind.
Our engines have been re-manufactured to factory specs using all new industry recognized name brand parts that meet and exceed OEM specifications. The block has been professionally machined and bored for use with the next over-sized piston NO SLEEVES ARE USED.
All New OEM or equivalent pistons, rings, and gaskets are used to ensure quality and consistency of our engines. Our Re-manufactured Cylinder Heads have all new seats, guides, valves, and stem seals as well as being resurfaced and magnafluxed.
Short Block Engines include:
Front Cover with Seal
Rear Cover with main seal
Oil pan
All internal components
Complete gasket kit for installation
Long Block Engine Include:
Complete short block assembly and gaskets, plus cylinder head
All rockers/pushrods preset to factory specifications
Complete top end gasket set to finish installation.

All remanufactured engines are serviced with Rottler CNC machining, which guarantees high quality results.
To learn more about Rottler's innovative, industry leading machines please visit: www.rottlermfg.com
Brand: Chev-GMC Duramax
Product Type: Engines
Years: 2001 - 2004